TRIG-MAN 2009
SHOP MATH MADE SIMPLE
TRIG-MAN 2009 provides an easy to use all purpose math problem solver, and information manager.
All tightly integrated under the WINDOWS environment.
Consider the advantages of having your machinery's handbook, calculators, word processor, address book, calendar, mill & lathe drilling, N/C code output, full featured Spread Sheet with Custom Shop Templates, and more all under one easy to use software program.
Upgrades are Available
Download the help file for evaluation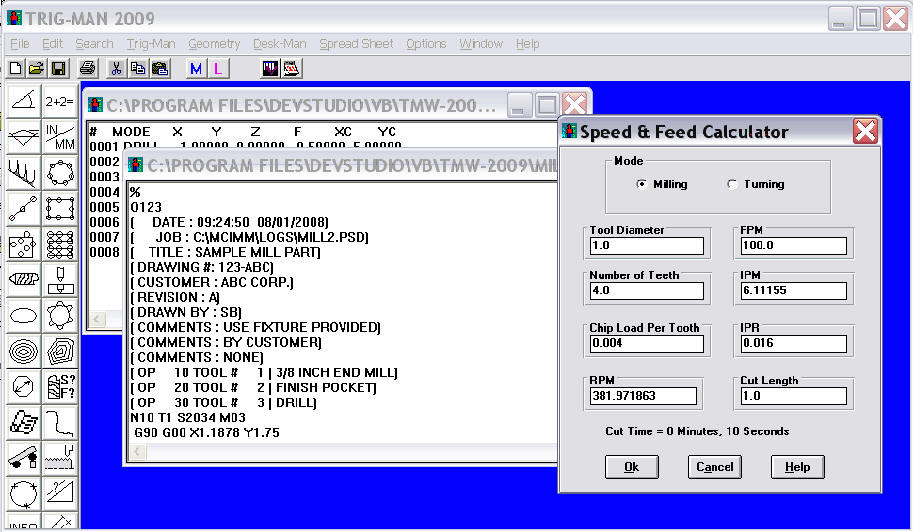 TRIG-MAN 2009 BASIC FEATURES:
Handy Triangle Solver (Any Triangle, not just Right Triangles)
Machinery's Handbook Tables
Gear Calculator
Mill & Lathe Drilling - Bolt Arc/Circles, Linear, Random, Rectangular and Grid patterns
MINI-CAM: CAD like geometry creation with free form tool motion and DXF Import/Export
Thread Specification Calculator (including thread class)
Speed / Feed Calculator
Drill Depth Calculator
Address Book: Home / Work address Phone database with notes
Edit multiple NC-programs / Memos at once
NC-Code Macros, and Sequence Renumbering
Calendar, Scheduler, To-Do List
Mill Pocketing: Square, Rectangle, Polygons and Circular
Advanced NC-Code generator. Can be user setup for complete output of standard drilling, rapid, linear, and circular codes, or as a DXF file. Full graphical preview / printing.
Ellipse Drawing / Machining Calculator
Spline Curve Drawing / Machining Calculator
Circular Pocketing Roughing / Finishing with Concentric or Spiral Tool Paths
Sine bar Calculations
Conversion Calculator (Inch / Metric, TPI / Pitch, Taper Per Foot, Many others)
Circular Chords
Polar coordinates
Speed & Feed Database
Angular conversions
TRIG-MAN 2009 Features (Continued)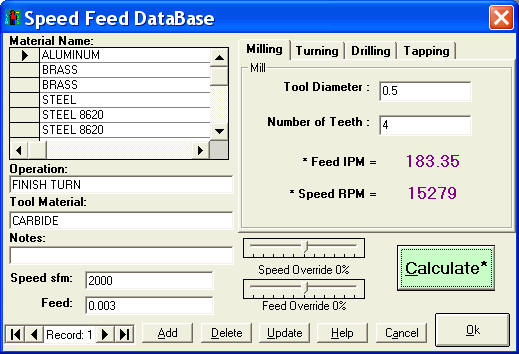 Spread Sheet*
TRIG-MAN 2009 Includes a powerful Spread Sheet Program
Highly MICROSOFT EXCELŽ Compatible, reads and writes Excel files.
Tool Bars with built in "Tool Tips"
Supports over 130 Functions
AutoSum Function
Print preview
Save Files in HTML format for publishing on the Internet
SPC - XBAR & Range Chart
Built in Graphing Capability with over thirty 2D & 3D chart types !

Includes

sample templates for many shop related tasks, such as Job-Costing, Tool Calibration Report, Weekly Time Sheet, Expense report, and SPC data.

*Not Available under 64bit Versions of Windows
Requires
WINDOWS

XP/Vista/7/8/10

15

00 MHz

CPU

512

Meg Ram

(4096 Vista/7/8/10)

Display Resolution 1024

x

7

6

8

Minimum

50

Meg Disk Space
Mouse or Other Pointing Device
Screen Shots:
Sine Bar Calculator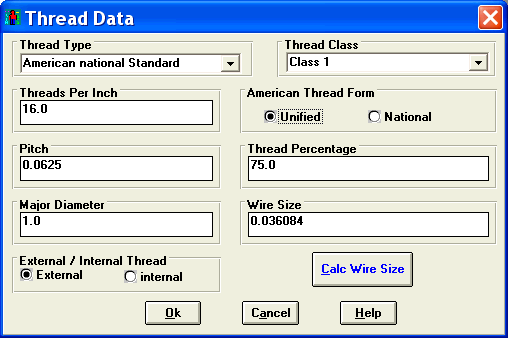 * * * * * * Thread Data Sample * * * * * *
American national standard thread
External Thread 0.75000 % depth
Major Diameter .................... 1.00000
Minor Diameter .................... 0.92332
Pitch Diameter .................... 0.95941
Thread angle ...................... 60.00000
Threads Per Inch .................. 16.00000
Pitch ............................. 0.06250
Flat .............................. 0.00781
Single Depth ...................... 0.03834
Maximum Depth ..................... 0.05413
Helix Angle ....................... 1.18792
Wire size ......................... 0.03125
Measurement over wires ............ 0.99903

Thread Class ...................... 1
Maximum Major Diameter ............ 0.99839
Minimum Major Diameter ............ 0.98422
Maximum Pitch Diameter ............ 0.95780
Minimum Pitch Diameter ............ 0.94975
Maximum Minor Diameter ............ 0.92171
Minimum Minor Diameter ............ 0.00000

Thread Data Calculator/Sample results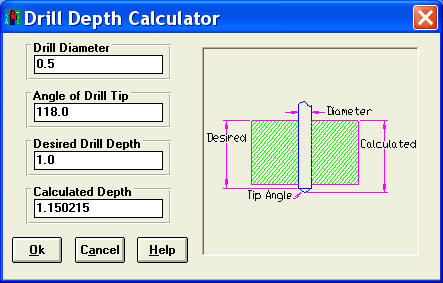 Drill Depth Calculator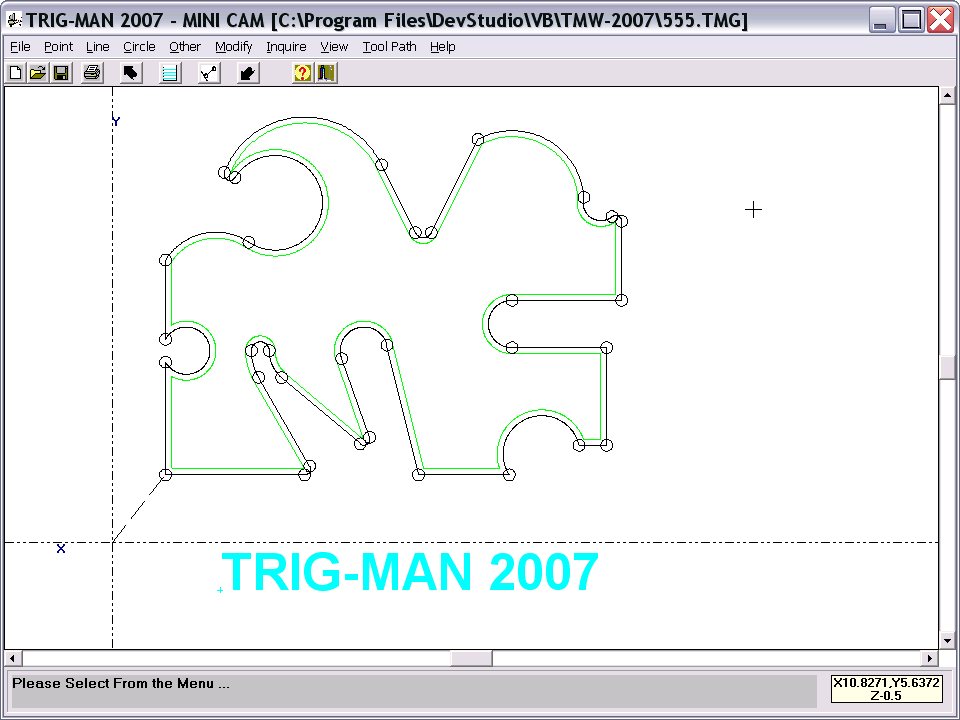 Mini-CAM Free Form NC-Programming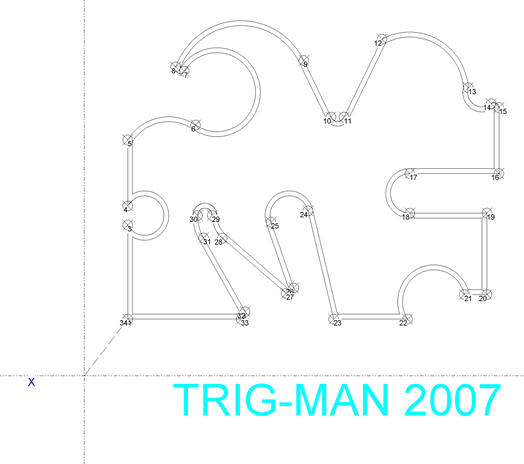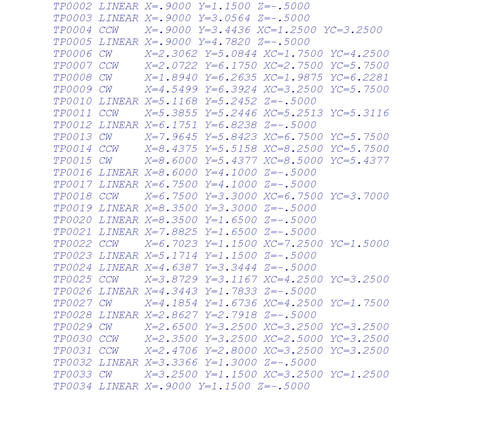 GDP -- Manual Programming aide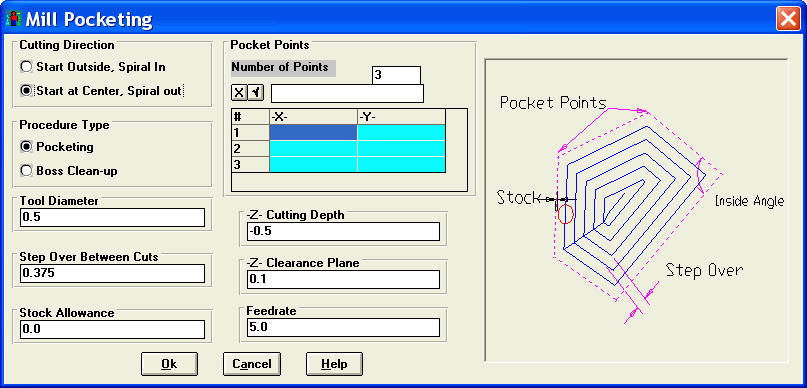 Mill Pocketing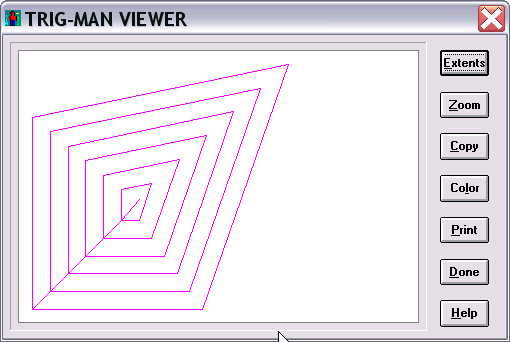 Mill Pocketing tool path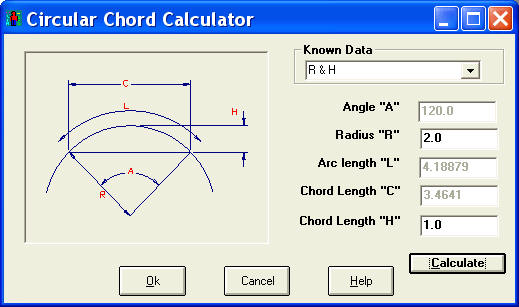 Circular Chord Calculator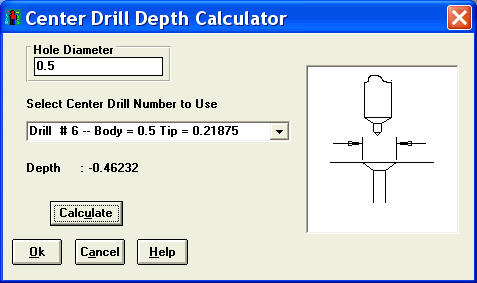 Center Drill Depth Calculator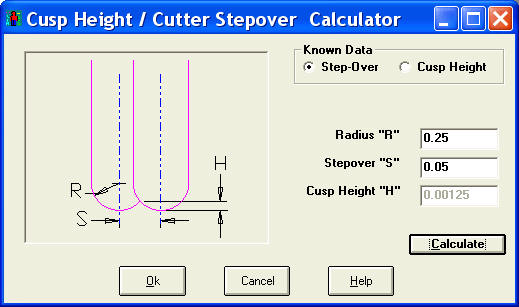 Cusp Height / Cutter Stepover Calculator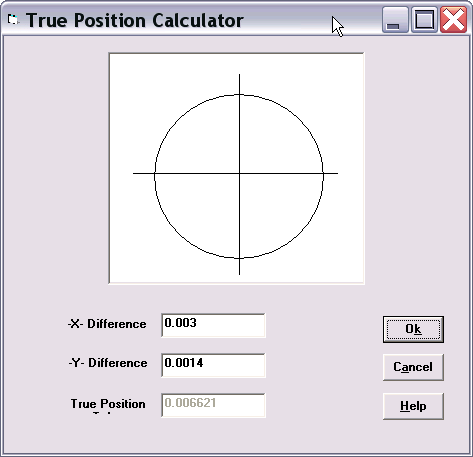 True Position Calculations
General:
Context Sensitive help -- Simply click on the Help button for detailed help on the specific tool you are using.
Angle conversions calculator -- Convert easily between decimal degrees, or degrees, minutes, seconds.
More conversions (from 3 to 8)
Circular Chord Calculator
XY/Polar Coordinates Calculator - Convert between Polar and Rectangular XY coordinates
NC-Code Macros -- Store / Retrieve standard NC-Code block sequences
Resequence -- Renumber or remove sequence numbers from you NC Programs
New Improved/Expanded Reference Tables -- Easily add your own custom tables/charts
Speed & Feed Database -- Free form database for entering / recalling unlimited speed, feed, tool type/material, and operation information
Edit Large files -- Several Multi-Megabyte files may now be edited at the same time.
Edit Undo/Redo --
Easy Access Tool Bar for Trig Functions - .
Graphics Examples in all Calculators --.
Center Drill Depth Calculator -- .
Speed / Feed Calculator Time Calculation - .
Cusp Height/Stepover Calculator - .
Three Point Circle Calculator - .
Thread Milling Cycle
Completely New Deskman Utilities - Brand new, updated calendar, note pad, address book.
Windows XP Compatibility - .
Improved Speed/Feed calculator -- New separate pages for Mill/Lathe
Surface Finish Calculator -- For Turning operations
True Position Calculator -- Given X/Y error calculates the true position amount
Mini-CAM

Features

:
Draw Text command -- Add text to your Mini-CAM drawings. Any true type font can be used
Single Step Box Draw Command -- Draw a complete box/rectangle (including corner radii) in a single step
Import DXF file -- Basic 2D import of DXF files, through version 2008
GDP Manual Programming Printout -- Draws your part with all tool positions labeled/numbered along with a table listing the coordinates of each.
Main Toolbar -- Quick access to common commands
Pop-Up menu -- Clicking the right mouse button give quick access to the "view" menu.
Recently Used File List -- Quick access to the last four files loaded
Increase symbol table size -- Now stores up to 10,000 entities/tool motions
Line extend one end
Modify - Trimming -- for geometry clean-up
Inquire length -- Determine the length of an entity
Tool path drill selected points/arcs -- Drill large numbers of holes by mass selecting all points and / or arcs of a specified radius
Ingraver -- Single Font text engraving. Generate Linear, around an arc, and mirrored text
Cut-all command -- Cuts all defined entities. Perfect for engraving logos